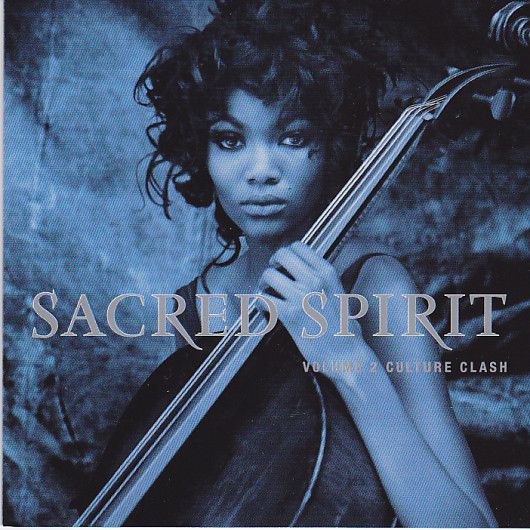 Sacred Spirit
- Volume 2 - Culture Clash
Virgin
 (1997)
Alt-Folk, Folk, Native American, New Age
In Collection

#2359
0*
CD Album    13 tracks  (59:49) 

 01
  Intro
 
 
 
  01:56
 02
  Culture Clash
 
 
 
  04:32
 03
  Lay Down
 
 
 
  04:40
 04
  On The Road
 
 
 
  04:14
 05
  Legends
 
 
 
  07:03
 06
  To Be A Slave (Interlude)
 
 
 
  05:58
 07
  The Sun Won't Talk No More
 
 
 
  05:32
 08
  Black Progress
 
 
 
  03:18
 09
  Roots
 
 
 
  06:38
 10
  Babes In The Juke House
 
 
 
  03:20
 11
  To Be A Slave (Interlude)
 
 
 
  05:15
 12
  Slow And Easy
 
 
 
  03:15
 13
  Sonnet Xviii
 
 
 
  04:08
Purchase Date
Price
£2.00
Store
HMV (Metrocentre - old store - now closed)
Location
Upstairs Black Bookcase Shelf 4

Cat. Number
CDV 2827
UPC (Barcode)
724384296223
Packaging
Jewel Case
Spars
DDD
Sound
Stereo
Purchased entirely for track 5, "Legends". I heard this many hears ago when someone requested the identification of a song in one of the music newsgroups (Usenet, now there's a blast from the past), to se eif I could name it. The answer was no, and I ended up also wanting to find out what it was, and even worse was the fact I only downloaded half the track. This was obviously before fast internet.

Needless to say, the original posting / thread was long gone, and I was also left with an unknown tune.

Eventually, I found out what it was. I can't remember how. I probably asked in a newsgroup myself. It was my very first purchase off itunes, but due to their DRM, I uninstalled it, and couldn't remember my details.

A quick through the "replay" shelves in the local HMV saw me purchase this CD. Hurrah.