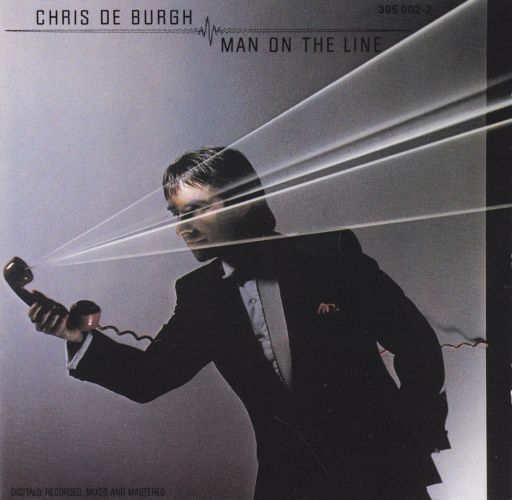 Chris de Burgh
- Man On The Line
A&M Records
 (1984)
Pop, Pop / Rock
In Collection

#4154
0*
CD Album    10 tracks  (41:09) 

 01
  Ecstasy Of Flight (I Love The Night)
 
 
 
  04:01
 02
  Sight And Touch
 
 
 
  03:14
 03
  Taking It To The Top
 
 
 
  04:01
 04
  The Head And The Heart
 
 
 
  04:01
 05
  The Sound Of A Gun
 
 
 
  04:29
 06
  High On Emotion
 
 
 
  04:26
 07
  Much More Than This
 
 
 
  02:57
 08
  Man On The Line
 
 
 
  04:24
 09
  Moonlight And Vodka
 
 
 
  03:37
 10
  Transmission Ends
 
 
 
  05:59
Cat. Number
395 002-2
Packaging
Jewel Case
Spars
DDD
Sound
Stereo
I'm not a fan of Chris De Burgh, but I do like the song "High on Emotion", which is featured on this album. I picked it up for 10p as it was without its proper case. A previous owner had moved it into a "CD Single" case. along with the booklet. This, of course isn't a problem for someone as pikey as me. The CDs tend to get ripped and then never played again

I've always liked "High On Emotion" ever since I first heard it on one of those infomercial things (or whatever us brits call them) that sell you 15,000 CDs for the low low price of £99.99.

It was one of those songs that stuck in my head after my trip to Austria, outside one of the stations, it was being played on a radio that some market stall seller was listening to. It's one of those moments when you're in a foreign country and you hear a song you know. A bit like that time I danced around in my underpants to "shadow On The Wall" by Mike Oldfield. But we won't go into that.