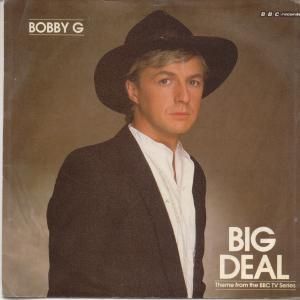 BBC Records
 (1984)
Electronic, Pop, Stage & Screen, Synth-pop, Theme
In Collection

#3891
0*
 01
  Big Deal
 
 
 
 
 02
  It's All For Jan
 
 
 
 
Purchase Date
28/06/2014
Price
£0.50
Store
Record Fair (Middlesbrough)
Location
Wham Box 3

Cat. Number
RESL 151
Packaging
Sleeve
Spars
N/A
Sound
Stereo
RPM
45
"Big Deal", the BBC Television series, features cockney gambler Robby Box.

Played by Ray Brooks, Robby - who has always been outside the system - is looking for a way to become respectable.

But how? He struggles to finance his various schemes in the only way he can, by continuing to gamble.

His girlfrield, Jsn, is played by Sharon Duce. Her teenage daughter, Debby is played by Lisa Geoghan and Pamela Cundell plays Robby's mum, Vi.

The series is devised by Geoff McQueen, the author of "Give Us A Break" and "The Chinese Detective". Bobby G who has written, sung and produced the theme for "Big Deal" is better known as one quarter of Bucks Fizz.