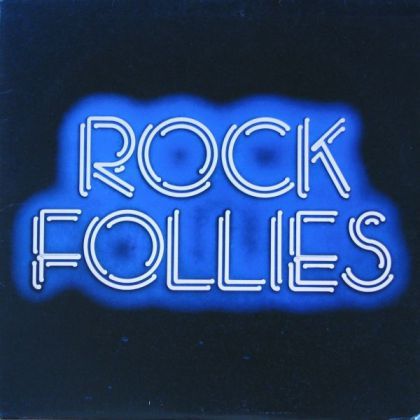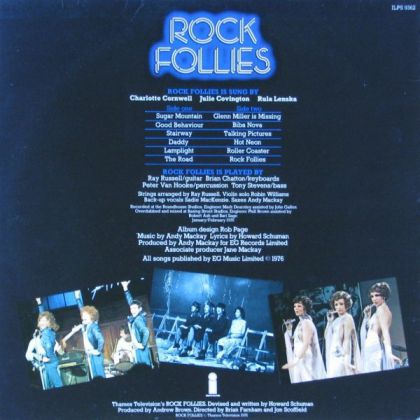 Charlotte Cornwell; Julie Covington; Rula Lenska
- Rock Follies
Island
 (1976)
Ballad, Music Hall, Pop
In Collection

#3083
0*
 01
  Sugar Mountain
 
 
 
  02:47
 02
  Good Behaviour
 
 
 
  02:35
 03
  Stairway
 
 
 
  04:05
 04
  Daddy
 
 
 
  02:00
 05
  Lamplight
 
 
 
  03:55
 06
  The Road
 
 
 
  03:55
 07
  Glenn Miller Is Missing
 
 
 
  03:12
 08
  Biba Nova
 
 
 
  03:55
 09
  Talking Pictures
 
 
 
  02:53
 10
  Hot Neon
 
 
 
  03:02
 11
  Roller Coaster
 
 
 
  01:25
 12
  Rock Follies
 
 
 
  03:58
Location
Downstairs cabinet

Cat. Number
ILPS 9362
Packaging
Sleeve
Spars
N/A
Vinyl Color
Black
RPM
33
Te soundtrack to the parody TV series...

Rock Follies (together with its sequel, Rock Follies of '77) is a musical drama shown on British television in the 1970s. The storyline followed the ups and downs of a fictional female rock band called the "Little Ladies", as they struggled for recognition and success. The series starred Rula Lenska, Charlotte Cornwell and Julie Covington as the Little Ladies, with support from Emlyn Price, Beth Porter, Sue Jones-Davies, Bob Hoskins, Stephen Moore, Derek Thompson, Denis Lawson and Little Nell among others. The series was made with a very low budget for Thames Television, with a style inspired by fringe theatre and was based on an original idea by Annabel Leventon, Diane Langton and Gaye Brown.[1]

The series was a success, winning three BAFTA Awards, and the soundtrack album reached No. 1 in the UK chart. A second series with its own soundtrack album followed.