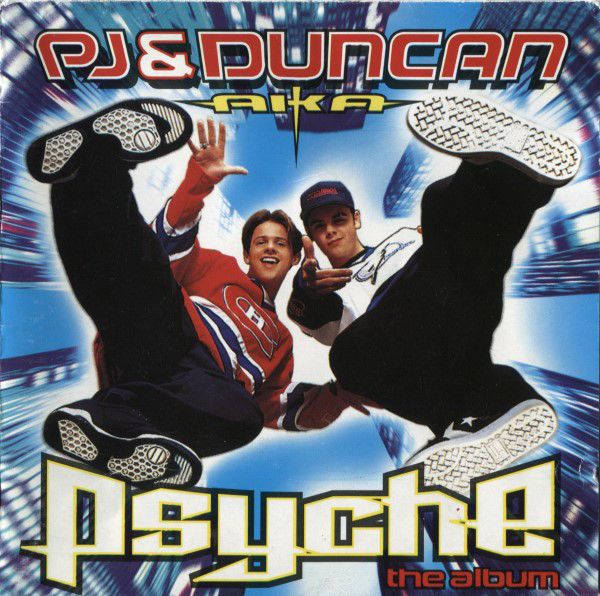 P. J. & Duncan
- Psyche: The Album
Telstar
 (1994)
Pop
In Collection

#2612
0*
CD Album    12 tracks  (61:13) 

 01
  Lets Get Ready To Rhumble
 
 
 
  03:58
 02
  One Look
 
 
 
  04:01
 03
  Why Me?
 
 
 
  03:31
 04
  She Scores A Perfect Ten
 
 
 
  04:10
 05
  Tonight I'm Free 94
 
 
 
  03:44
 06
  Eternal Love
 
 
 
  03:56
 07
  If I Give You My Number
 
 
 
  03:14
 08
  Talk About It
 
 
 
  03:46
 09
  Girlfriend
 
 
 
  04:09
 10
  Our Radio Rocks
 
 
 
  04:02
 11
  I Want You
 
 
 
  04:27
 12
  Free As A Bird
 
 
 
  18:15
Purchase Date
Price
£0.20
Store
Cash Generator (Huddersfield)
Location
Upstairs Black Bookcase Shelf 4

Cat. Number
TCD 2746
UPC (Barcode)
5014469527461
Packaging
Jewel Case
Spars
DDD
Sound
Stereo
Now, this was one of those "sneaky" purchases. When I'm in shops such as "Cash Generator", and the CDs are piling up, he likes to occasionally slip an embarrassing one into the pile. This one appeared on the shelves, he picked it up, and asked me if I wanted to purchase it. Naturally,, my response was "NO", but I had a feeling he'd do something with it, such as slap it into the afore-mentioned pile of other rot I'd purchased.

I was not disappointed. While the cashier checked up the pile of 24 CDs, he'd distracted me as it went through the scanner, and indded, it ended up in the little blue and white carrier bag.

Don't get me wrong, the songs on there are absolutely diabolical. Unbelieveable rhyming such as "So many lyrics, we keep them in stores. We've even got them coming out of our pores". No, you don't really, do you? The song credits list the writers as Lew/Otton/Graham, heaning that Mr. McPartlin and Donnelly lied to us through song. I HATE IT WHEN PEOPLE DO THAT!

It will, however, hold just that little, special spot in my heart, as they were the first "celebrities" i ever saw, as they appeared at the TFM Roadshow down in Seaton Carew, probably around the same time this song was popular. I remember not being particularly impressed with their performance, and half way through, me and the friend who I was with t the time, decided to hit the arcades. Classics such as Ridge Racer were just starting to become available, and they were the busiest machines. I think I had my first ever go on it that day. I didn't do very well.

by the end of the day, we were burying each other on the beach. It seems like yesterday, so it's hard to think it's almost 20 years ago. That means that these two have been on our tellies for over 20 years. Erk. I've already taken the opportunity to rip a copy of the album, and I'm listening to it now. It's absolutely dreadful, but I'm sort of glad I actually have a copy.