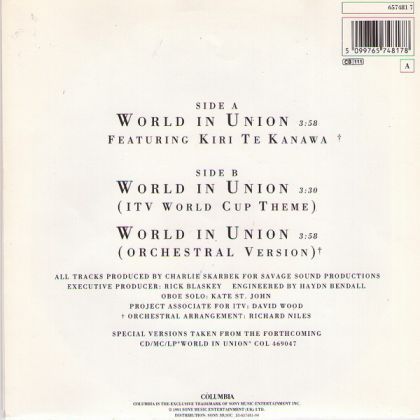 Kiri Te Kanawa
- World In Union
Columbia
 (1991)
Electronic, Pop, Stage & Screen, Theme, Vocal
In Collection

#2747
0*
7 inch Vinyl    3 tracks  (11:26) 

 01
  World In Union
 
 
 
  03:58
 02
  World In Union (ITV World Cup Theme)
  Unknown Artist
 
 
  03:30
 03
  World In Union (Orchestral Version)
  Unknown Artist
 
 
  03:58
Cat. Number
657481 7
UPC (Barcode)
5099765748178
Packaging
Sleeve
Spars
N/A
RPM
45
Good lord, memories of this come flooding back, as I just remembered this was my first ever "record decision". It was 1991. I had just discovered music as I know it now, as Daddykins came home from work one day with a record player. I was 11 at the time. It had became clear to my parents that my love for music had began to shine.

I had went to Stockton with my aunt Rose, at some point in October, and I was allowed to buy a record. My first ever brand new single. I had a choice in my mind between this one and "Caribbean Blue" by Enya.

This record was in my mind because the rugby world cup had been on. I really liked this record. I didn't care too much for rugby. The Enya record was in my mind because it had "Orinoco Flow" as the B side, a rare favourite of mine at the time.

In the end, this ended up back on the Woolworths shelf, and Enya came home with me. (So did the record, etc etc).

I don't regret my decision.