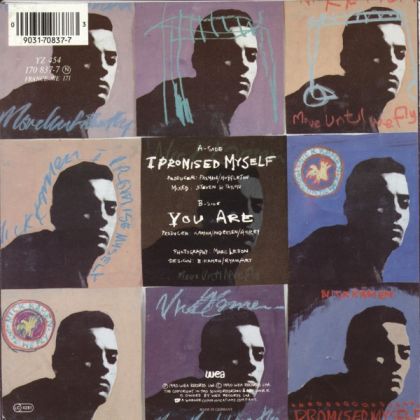 Nick Kamen
- I Promised Myself
WEA
 (1990)
Electronic, Pop, Synth-pop
In Collection

#2207
0*
7 inch Vinyl    2 tracks  (07:53) 

 01
  I Promised Myself
 
 
 
  03:55
 02
  You Are
 
 
 
  03:58
Purchase Date
22/07/2007
Price
£1.00
Store
Market stall (Berlin)
Location
Wham Box 2

Cat. Number
YZ 454
UPC (Barcode)
090317083773
Packaging
Sleeve
Spars
N/A
RPM
45
There's absolutely nothing I don't love about this song, and to top it all off, I remember everything about hearing this for the first time, and eventually buying this.

I'd just finished a night shift at an old employment place. It was time to er... get drunk, or at least have a couple to send me home happy. Anyway, the shopping centre had just opened for the morning, and seeing as there were no shops open, I walked around aimlessly. Because there was nobody else there, it was noticeable just how loud the tannoy was, and it just happened to play this particular song, which I hadn't heard before.

I somehow made a note of the lyrics I'd heard. whether I'd written them down, or recorded on my old phone at the time, I can't remember, but I was still able to identify the song.

Aquiring the song was to be a little different than normal. As much as I'd liked the record, I never tracked it down properly. It wasn't until I went on holiday that I remembered about it.

It was in Berlin. It was the very last day of the holiday, and I think me, Chris and Jonathan headed up to find the museum district. Or, we just wandered in the direction where we thought they were, one of the two. Anyway, it was a complete accident that we found ourselves in a market, which just happened to sell lots and lots of records.

I dug through a particular box, and found this particular single, and I was, as you can imagine, over the moon. The rest is history. It's a really good quality pressing.