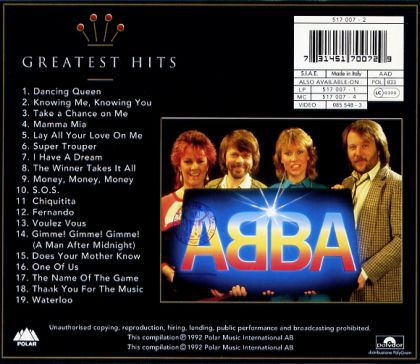 Polar
 (1998)
European Pop
In Collection

#170
8*
CD Album    19 tracks  (77:04) 

 01
  Dancing Queen
 
 
 
  03:51
 02
  Knowing Me, Knowing You
 
 
 
  04:02
 03
  Take A Chance On Me
 
 
 
  04:04
 04
  Mamma Mia
 
 
 
  03:33
 05
  Lay All Your Love On Me
 
 
 
  04:34
 06
  Super Trouper
 
 
 
  04:14
 07
  I Have A Dream
 
 
 
  04:44
 08
  The Winner Takes It All
 
 
 
  04:55
 09
  Money, Money, Money
 
 
 
  03:09
 10
  S.O.S.
 
 
 
  03:21
 11
  Chiquitita
 
 
 
  05:26
 12
  Fernando
 
 
 
  04:13
 13
  Voulez Vous
 
 
 
  04:22
 14
  Gimme! Gimme! Gimme! (A Man After Midnight)
 
 
 
  04:49
 15
  Does Your Mother Know
 
 
 
  03:15
 16
  One Of Us
 
 
 
  03:58
 17
  The Name Of The Game
 
 
 
  04:00
 18
  Thank You For The Music
 
 
 
  03:51
 19
  Waterloo
 
 
 
  02:43
Store
Aucland (Auction Site - now closed)
Location
Upstairs Black Bookcase Shelf

Cat. Number
5170072
UPC (Barcode)
731451700729
Packaging
Jewel Case
Spars
AAD
Sound
Stereo
This was one of the many re-releases of the album. The cover had the autographs printed in gold text on the case itself.

Back cover has a picture from "Arrival" on it instead of the pciture shown here.

As there are many different mixes of the album, this one is "Digitally remastered in 24 bit from the original multitracks by Jon Astley and Michael B Tretow".