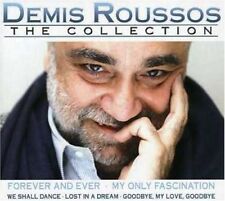 Demis Roussos
- The Collection
Delta Music
 (2004)
In Collection

#11224
0*
CD Album    16 tracks  (55:24) 

 01
  Forever And Ever
 
 
 
  03:41
 02
  Marlene
 
 
 
  03:06
 03
  Smile, Tho' Your Heart Is Aching
 
 
 
  02:55
 04
  My Reasons
 
 
 
  04:01
 05
  Shadows
 
 
 
  03:42
 06
  My Only Fascination
 
 
 
  03:45
 07
  Lord Of The Flies
 
 
 
  04:22
 08
  When I Am A Kid
 
 
 
  03:18
 09
  We Shall Dance
 
 
 
  03:33
 10
  Lost In A Dream
 
 
 
  04:11
 11
  Someday, Somewhere
 
 
 
  03:04
 12
  From Souvenirs To Souvenirs
 
 
 
  02:36
 13
  Réverie
 
 
 
  03:43
 14
  Without You
 
 
 
  01:59
 15
  Let It Be Me
 
 
 
  03:33
 16
  Goodbye, My Love, Goodbye
 
 
 
  03:55
Location
Upstairs Black Bookcase Shelf 2

Cat. Number
26455
UPC (Barcode)
4006408264552
Packaging
Jewel Case
Spars
DDD
Sound
Stereo
Appears to have been released in other regions as "Forever in Your Heart" on LaserLight records.

This one caught my attention because of "When I am A Kid", by far my favourite track of his. Everything looks like it could have been a knock-off re-recording, but thankfully, I can confirm that at least the afore-mentioned track is the original. It's only in the last couple of years I've tried to hunt down this track, after discovering it on one of my dad's old LPs that I used to play as a kid, and while there are many, many compilation CDs, very few feature this track, probably because it was an album track. It was released as a B side to one of his singles too, but I'm pretty sure it was only in mono.

Suppose I can stop buying Demis Roussos albums and CDs now, now that I've managed to track down a decent copy. Always amuses me when I go to the counter with a CD like this, wondering what such a cool guy (!) is doing buying a CD like this.