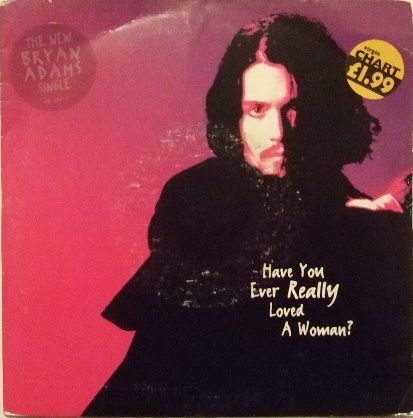 Bryan Adams
- Have You Ever Really Loved A Woman?
A&M Records
 (1995)
Pop Rock, Rock, Soft Rock
In Collection

#1045
0*
7 inch Vinyl    2 tracks  (09:09) 

 01
  Have You Ever Really Loved A Woman?
 
 
 
  04:52
 02
  Low Life
 
 
 
  04:17
Cat. Number
581 028-7
UPC (Barcode)
731458102878
Packaging
Sleeve
Spars
N/A
Sound
Stereo
RPM
45
I think this 7@ version might be damaged, I don't have it to hand to check. Always remember being in Leeds the first time I heard this song. I think we were going to pick up a hard drive for my Amiga 1200, a nice little birthday pressie from my dad. I think this is the reason it sticks in my head more than it should do, as it's not one of his best songs, and if I didn't have that happy little memory attached to this particualr song, I'd have probably forgotten it and never bought the single.