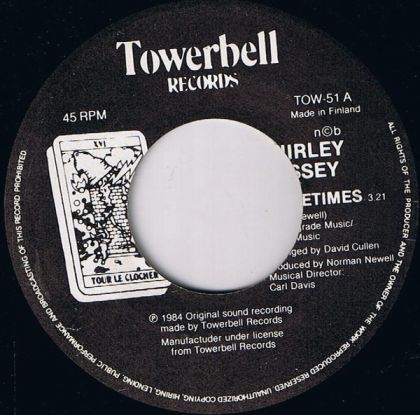 Shirley Bassey
- Sometimes
Towerbell Records
 (1984)
Chanson, Pop, Stage & Screen, Theme
In Collection

#7209
0*
7 inch Vinyl    2 tracks  (07:32) 

 01
  Sometimes
 
 
 
  03:21
 02
  He Needs Me
 
 
 
  04:11
Purchase Date
29/05/2017
Price
£0.49
Store
Oxfam (Whitby)
Location
Plantronics Box 1

Cat. Number
TOW-51
Packaging
Sleeve
Spars
DDD
Sound
Stereo
RPM
45
Vocal version of the theme from "Champions". It's really as bad as can be imaginable. I've never been a fan of Shirley Bassey, but I had to buy this just for the inevitable novelty value, and the fact I like the original instrumental version of the theme.

It was, of course, used for most of the Grand National coverage on the BBC. Channel 4 didn't use it for their coverage, but ITV did use it, at least when they statted covering the race in 2017, and again in 2018

Not this vocal version, though. It sank without trace.