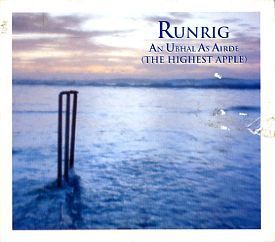 Runrig
- An Ubhal As Airde (The Highest Apple)
Chrysalis
 (1995)
Celtic, General Rock
In Collection

#6701
0*
CD Single    4 tracks  (20:48) 

 01
  An Ubhal As Airde (The Highest Apple) From The 'cutter And The Clan'
 
 
 
  03:48
 02
  Abhainn An T - Sluaigh From 'the Big Wheel'
 
 
 
  05:18
 03
  The Greatest Flame From 'amazing Things'
 
 
 
  05:00
 04
  Flower Of The West From 'transmitting Live'
 
 
 
  06:42
Cat. Number
CDCHS 5021
UPC (Barcode)
724388212823
Packaging
Digipac
Spars
DDD
Sound
Stereo
Had this back in the day when it originally came out, but didn't survive, like many of the CDs I had around that time. Managed to find this really good condition copy

I'm a fan more of the 2nd track than I am of the first, though I don't understand any of the words on either track!

The cover shot is a still from the advertisement it was used in, which I believe was for Carlsberg.